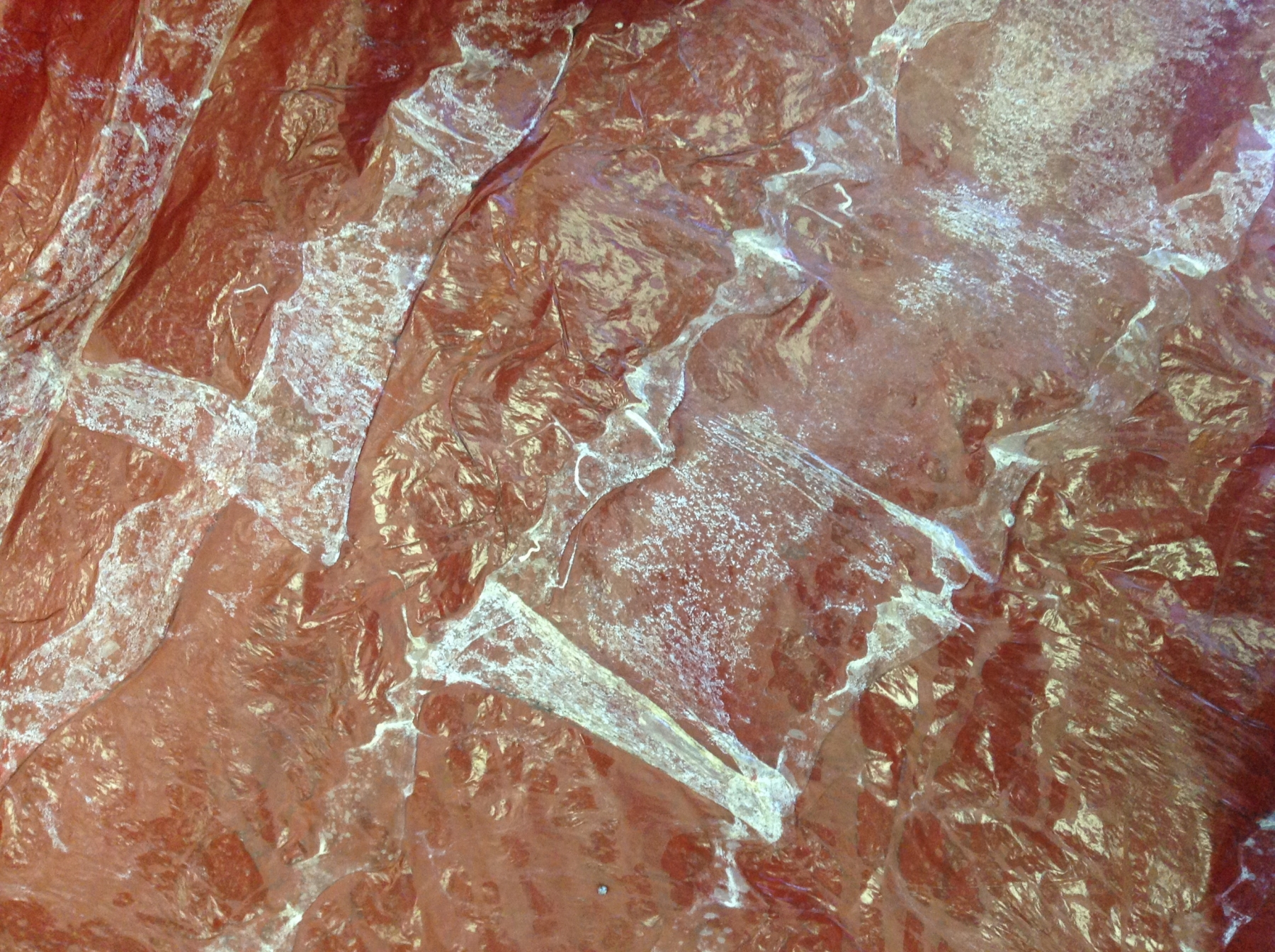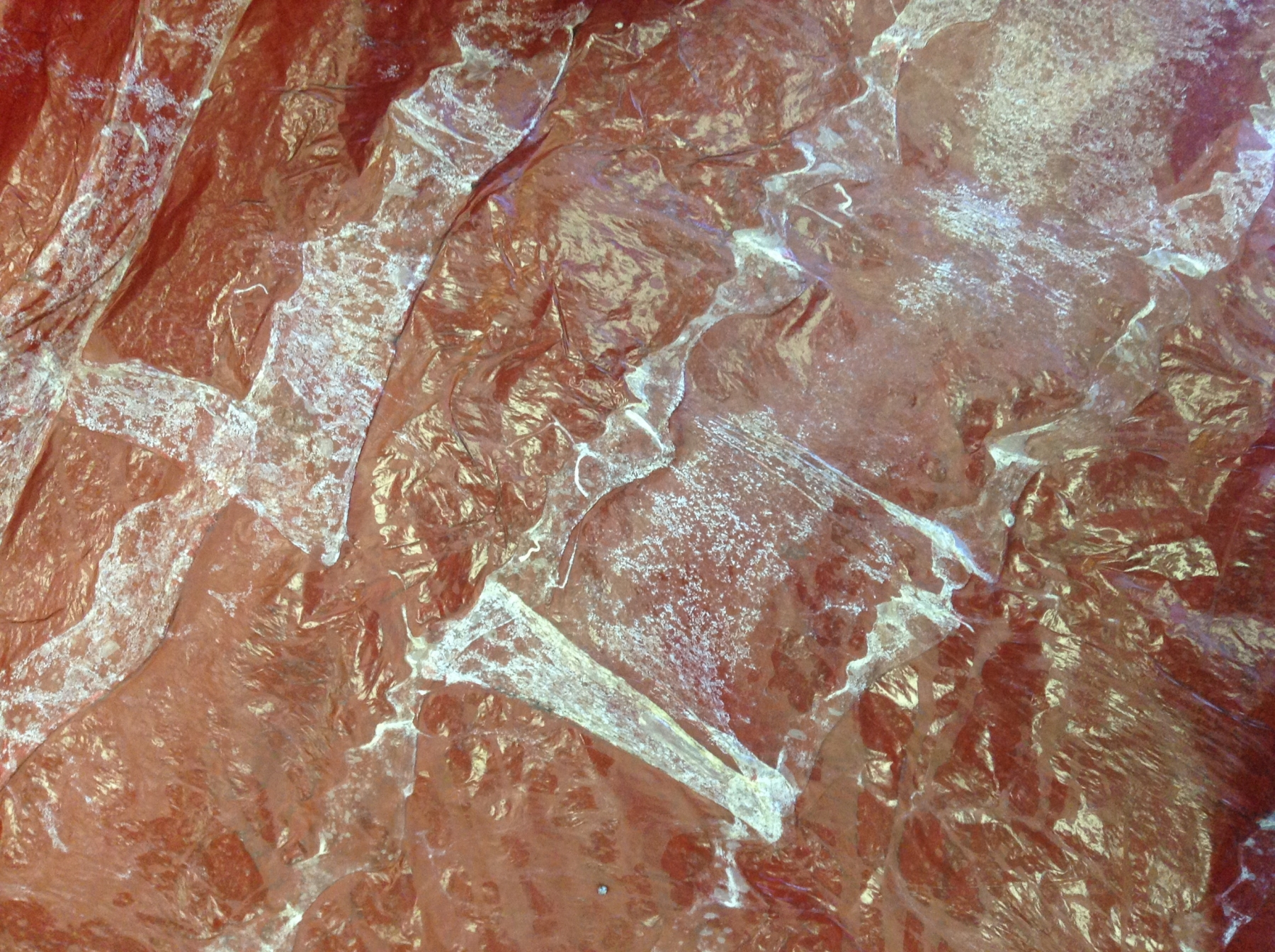 OUTLET Fine Art is proud to present Beneath The Skin, an installation by Cristin Richard along with work by Matthew Caron, Joseph Moore and music composed by Nate Czarling. The exhibition debuted on October 10 and will continue with gallery hours Saturday and Sunday 12-6pm or by appointment through November 2.
In the majority of Cristin Richard's work, she reconstructs animal intestines into tangible objects. Through the manipulation of this organic matter, these materials build a visual dialog of the conversation about human modes of production, both in a contemporary and an ancient sense. Investigating the waste of modern industrial/commercial production while borrowing from her own fascination with aboriginal cultural utilitarianism – for example the Kapitaq or seal intestine parka, and the way in which all the parts of a slaughtered animals can be used – she creates unique art objects.
Yet, by playing on the ambiguity created by the presence of this material, she develops metaphors loaded with complexities that allow her work to also operate on a deeply emotional plane. Indeed, she is in the movement of artists whose work is related to the body and identity. Richard work examines the human condition and the fact that the body is physically and mentally determined in this condition—the medium of our relation to the world. This installation serves as a statement on our culture at present; it reveals the mindset of the woman, but also the society that puts her in this place.
With the idea of fashion as sculpture, Richard blurs the line between fine art and fashion. She believes that fashion allows one to create a second skin. It provides an escape that is rooted in the truth of one's own identity. People can transform themselves into whatever makes them feel good, allowing them to approach society in their own unique way.
Dehumanized, commoditized, she fights so hard to preserve her appearance, trying to stop the clock but instead she just stops herself from living, breathing, transforming. Transcribed in Richard's work is her personal story, from artistic impulses to existential questions. In her own words, "I came upon the concept for this show through my own fear of aging. Obsessed with my own skin. Worried that I will fade, and become unnoticed. The work is helping me push through this. Always, the work helps me release the heaviness that builds up inside."
Matthew Caron, in loose collaboration with Richard, has created a special video to underscore specific aspects of her work. Caron's work ranges from psychedelic examinations of obscure Middle Eastern religious sects to more recent forays into textile production and exploration of video as an environmental element that we can quite literally inhabit.
By extensively photographing animating and the materials utilized by Richards, Caron has created an additional layer of visual skin in symbiosis with experimental musician Nate Czarling, helping to make Beneath The Skin a full sensory experience.
"Along with the soundtrack of Czarling's electronica and a video piece by Matthew Caron, the full-sensory experience of the space could easily get you caught up by the stimulation, yet also allowed each conflicting sight or sound to resonate more deeply. The opening night performance by artist Jackie O'Shaughnessy, we see Jackie dressed one of Richard's couture creations on display on a spinning pedestal, reminiscent of Edgar Degas' Little Dancer bronze, yet a more mature version. Completely playing with the youth-obsessed fashion industry, Jackie stands tall, vibrant, and fully present in Richard's all-white creation. She doesn't sink beneath the clothing, but rather becomes part of it; skin to skin, fully embracing this new layer, not hiding but reveling in it." - Allison Galgiani, Bushwick Daily
"Empowerment, progression, and transformation are common goals the artist shares with Outlet Gallery, explains Director Julian A. Jimarez Howard. Beneath the Skin takes on the age-old battle against women treated as specimens, objectified by the role of their sex; a fight that is not only societal but in turn is also an internal one." - Playground Detroit